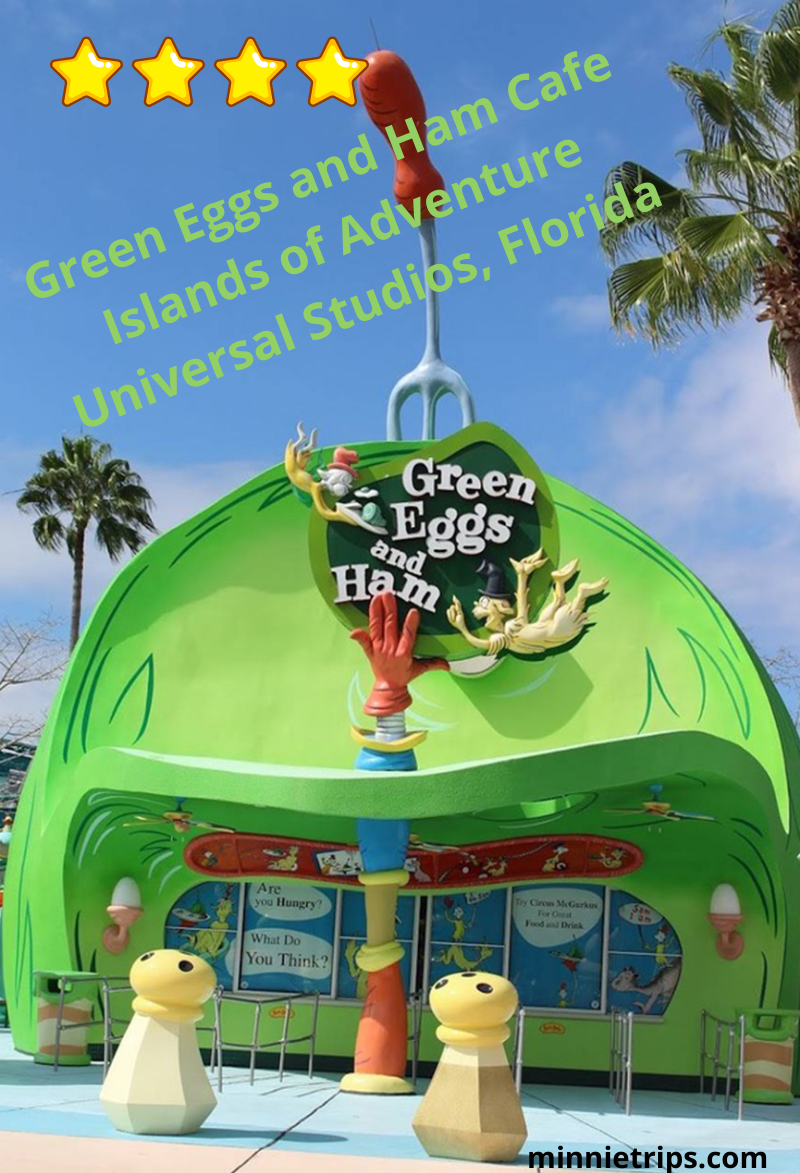 eating at Universal Studios Orlando April 2022
Eating at Universal Studios is definitely just as good as at Disney, but it is a different thing altogether.
By the time of our trip we were visiting Universal Studios Orlando, it was just my God Daughter and myself. We had a lot of fun! Both are pretty much Potterheads, but we did enjoy other parts of the parks as well.
On the last day of our visit, we were looking at places to grab a quick lunch.
Now, unlike a trip to Disney, I hadn't done a whole lot of research as to food options. I really had no idea what to do for a quick lunch, without leaving the park.
While looking at options we saw at the Islands of Adventure in Suess Landing there was a little quick-serve called Green Eggs and Ham Cafe. So we headed in that direction.
I have never taken small children to Universal. The girls were teenagers when we traveled there in 2013. We Have walked through Suess Landing on our way to the Wizarding World of Harry Potter.
Suess Landing
As a child and when my kids were little, Dr. Suess was a staple. We had the books. We watched the television specials. I mean really? Jim Carrey in "The Grinch"? That movie is now a Holiday Season classic in our house!
Suess Landing really brings these colorful kids' books to life.
And who would pass up on the chance to have Who Hash?
Our visit was in April of 2022. Disney was super crowded during our visit. Certain areas of Universal were super crowded, ie Hogsmead and Diagon Alley.
We were pleasantly surprised to find that Suess Landing was pretty sparsely populated. Now, I don't mean it was empty, but there were very few people there.
We found our way to Green Eggs and Ham Cafe and got in line. There were maybe 2 parties ahead of us and the line moved pretty fast.
What we ate at Green Eggs and Ham Cafe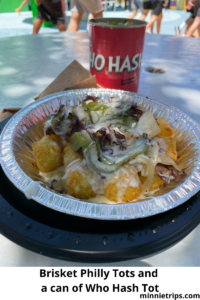 We decided to have Brisket Philly Tots and a can of Who Hash Tots. I got a bottle of lemonade and my GodDaughter got an Orange Drink. Our total was $35.85.
At the time of writing this, June 2022, I see that their tot selection has different options, so they must change throughout the year. Who Hash in a can does seem to be a staple though.
How was the food?
We really enjoyed it.
The Brisket Philly Tots were a good portion of a size. The brisket had a good flavor. There was brisket, onions and peppers and lots of cheese. The Who Hash tots was was definitely a novelty, but still very good.
Since it was just the two of us, we may have been able to have purchased just one and split it. That being said we did finish all of our food.
My one complaint and this is just a "me" thing. We got the can of Who Hash Tots. There was nowhere to recycle the can. I felt horribly guilty just throwing it in the trash. And saw others just tossing it in the regular trash. If they are serving in an item like this Universal should provide a place nearby to recycle these cans. But again, that is just me.
Overall Impression
We really enjoyed the atmosphere. It was much less crowded so we could enjoy our food.
The food was really good. Good portion size!
We would definitely find our way back to Suess Landing and Green Eggs and Ham Cafe!
Judi