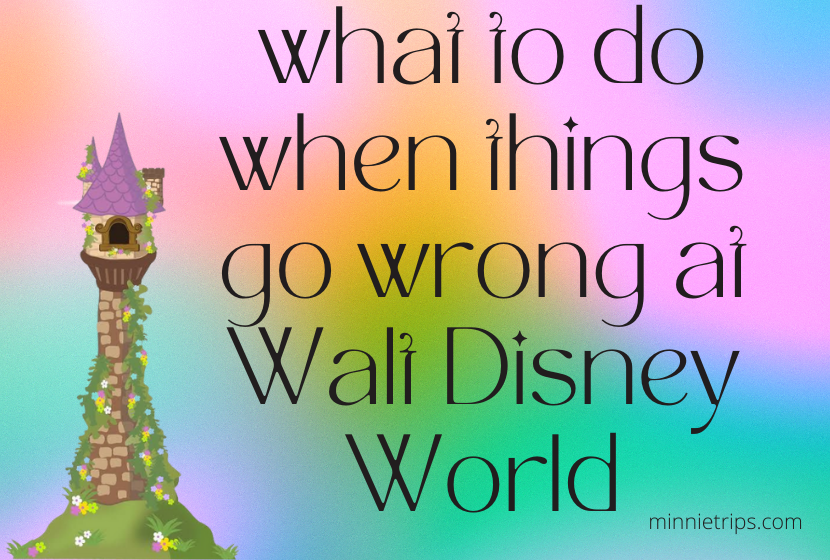 What to do when things go wrong at Walt Disney World
I hope you have the perfect vacation but it is always a good idea to know what to do when things go wrong at Walt Disney World.
You have the perfect vacation planned out.
You have arrived at your resort.
Everyone is having so much fun!
Then…
A brother has a kidney stone.
Your daughter has an allergic reaction.
Hubby gets the flu.
The van battery is dead.
And sad to say, I am not making these things up, they actually happened to us. Somethings actually happened twice! You just can't make that stuff up!
So what to do when things go wrong at Walt Disney World?
So here are a few tips if the worst happens.
If you are staying at a Disney Resort and it is just something minor check out the guest shop. They keep things like bandaids, moleskin, antacids, Benadryl and yes, even cold medicine. I won't lie to you, it does cost more, but when your kid needs Benadryl and you didn't pack it, the cost is a minor thing.
If you think you need urgent care go to the front desk. They do have a nurse on call they can get in touch with in emergencies. We were at the Art of Animation and I knew I needed to get my daughter to an actual facility so they gave me a little flyer that had the nearest one, directions and a phone number. They offered to call for a Minnie Van as well.
If you need an ambulance they can do that too. Call 911 if it is an emergency. For the whole kidney stone incident, the front desk called the ambulance for my brother. He was at the resort and we were at another resort, during a wedding. They were very helpful and made sure they showed the EMT where to find him.
Now let me tell you this
I had to take my daughter to urgent care and then later that night to the ER. She is never having tzatziki again!
Both times the front desk knew we were going. They checked on her to make sure she was ok! They actually followed up!
The one Cast Member knew I was stressed and just gave me a hug!
When my brother had to go to the hospital the Cast Members were the same way.
Now they were staying at the Shades of Green so their sponsor actually wasn't there to get them another night when they came back from the ER. That Cast Member stepped up to help and made an exception to get their room switched to me as their sponsor. Made sure they didn't have to change rooms and helped get them all settled in.
Now, these were medical issues. What do you do if you have other issues?
What to do for non-medical emergencies?
Again, go to the front desk!
We had our van packed up and ready to head home and it wouldn't start. Ya know it didn't want to leave either!
The front desk called the car service they have. They came to us in the parking lot and gave our car a jump. And it wasn't hours either. At the most maybe 30 minutes.
Now I am sure there will arise an emergency situation that Disney has never had before, the thing is this.
With as many guests as they have many things have gone wrong in the past. They have dealt with a lot of "things". They have a protocol in place on how to help guests out in most situations.
If the nearest cast member can't help you, they will know or can find out, where to get you the help that you need.
Disney is going to help you have a magical vacation
Disney is in the business of making magic. If something not so magical happens they want to help out in any way they can. Cast members are helpful and have many more resources than you can imagine. Let them work their magic for any unforeseen incident.
I hope you have a very magical vacation! Just know that is something does happen people are out there and ready to help you!
Judi